Online Software to download Google Earth Image in CAD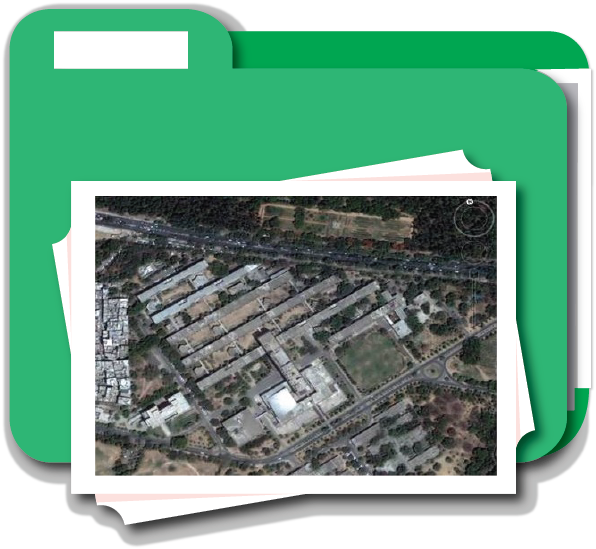 Image Extraction is a commercial SAAS (Online Application) that uses Maps API to bring to you an exclusive service to extract Images from Google Earth. This application extracts images of a given set of Latitude and Longitude points into CSV file using Google Maps API in a simple 3 step process.
How it works?
Extracting Images from Google Earth has never been so simple before. It just takes three simple steps to get the Images of any location from Google Earth through the Image Extraction module of esurveycad.com
Register your details on www.esurveycad.com by providing the required details.

Login with the user id and password sent to your Email Id used for Registration.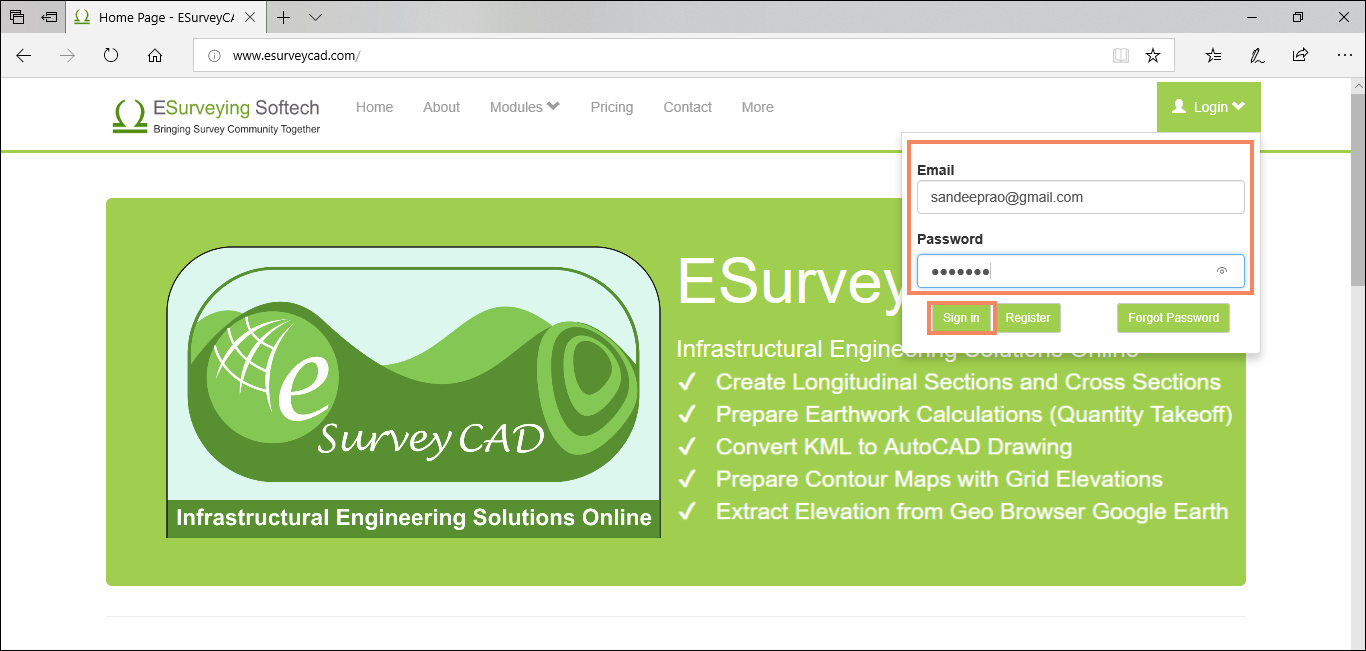 Now we will see how to extract the images.

In Modules menu, click Image Extraction.

In the page that opens, click on the Browse button, and select the CSV file containing the Latitude and Longitude of the points.

Note: The sample file is in the format as shown below.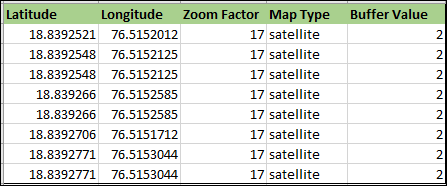 You can find a sample file in Downloads menu, as Sample Image Extraction.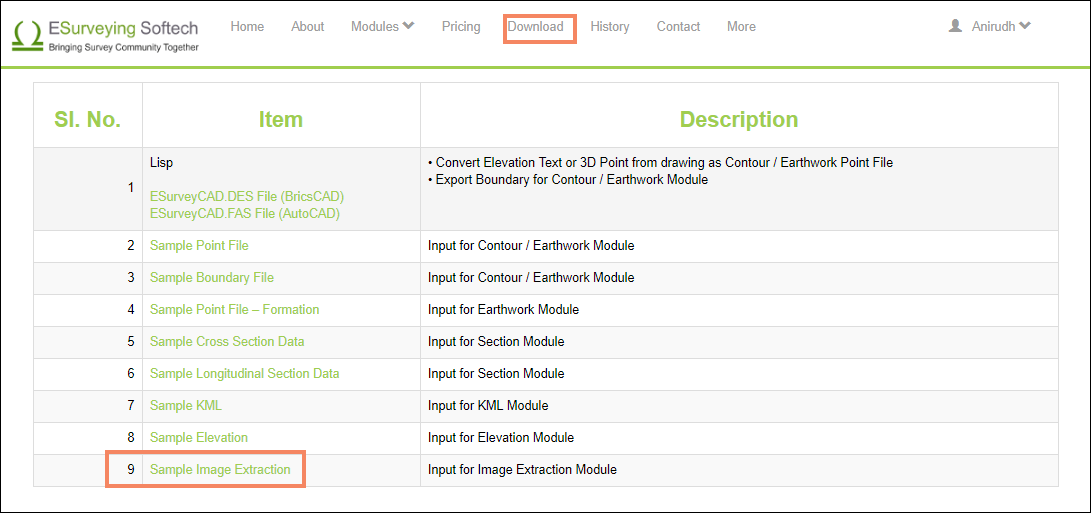 Upload the .CSV file.

To extract Images Click Extract Images button.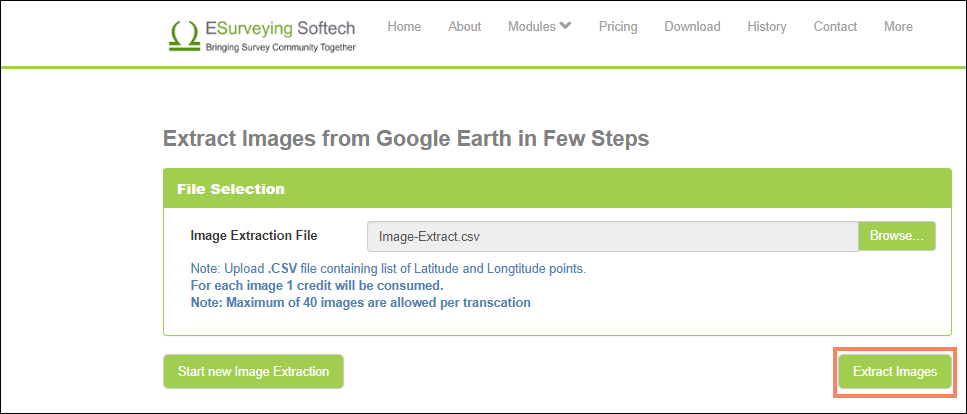 Click Continue to Extract Images, when you receive the notification, in order to confirm image extraction.

Click Download button to Download the Images into your computer.


Click on Email button to get a copy of extracted images in your inbox.

Email will be sent to your inbox, containing the zip file with extracted images.

A sample of an extracted image is shown below.
Image Extraction within CAD Software
ESurveying Softech presents a simple yet effective solution to extract images from Google Earth, within the CAD software itself in the form of ESurvey CADD Software.

The ESurvey CADD software's Image Extraction Solution is the simplest way to extract images from Google Earth. This application is created using google maps API and gives images from any drawing file containing latitude and longitude information in very simple steps. Using the Google Earth Module of ESurvey CAD, you can extract images of the area within the desired boundary, or of the desired alignment from google earth, along with the elevations and mark them on the Image Tiles.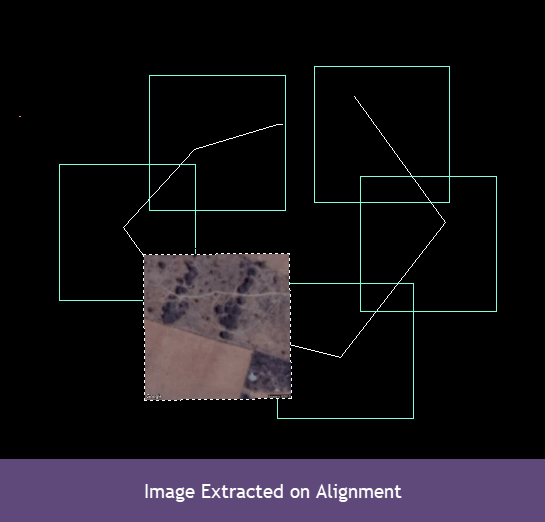 To know more about the Image Extraction from CAD Software using ESurvey CADD, Downloading Google Earth image in CAD .
Do you have problem in Creating Latitude, Longitude File?
By using ESurvey KML (Commercial application by ESSIPL), you can directly derive the CSV file having latitude Longitude points data. This CSV file containing the latitudes and longitudes of the drawing can then be used to extract the elevations using Elevation Extraction module.
---